President's Message
June 2017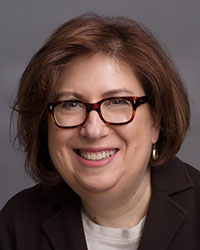 At the writing of this message, I am looking forward to being sworn in as NYWBA 2017-2018 President by Hon. Betty Weinberg Ellerin. For decades, Judge Ellerin (NYWBA President 1969-1970) has served as a role model and mentor to NYWBA members and as an advisor to many officers in our organization. Betty's support and encouragement of me and my presidency means a great deal to me. Thank you, Betty.
It is a true honor to serve as President of the NYWBA, an organization I love and that has been an important part of my professional and personal life since shortly after I graduated law school. I have served this organization in many capacities, including chairing many committees and serving in several officer positions. I have had the great pleasure to have worked with so many great NYWBA presidents and leaders, many of whom are now good friends. But I want to start my Presidency by thanking my dear friend and colleague, outgoing President Deborah G. Rosenthal, for her tremendous leadership and contributions to our organization. Deborah has served us with great distinction, with a deep appreciation and love for our mission and with a clear vision for our future. And she has done so with passion and a big heart. In the past six months she has added to her long list of duties by helping me prepare for my presidency. Despite spending more than twenty years on our board, I don't think I could have appreciated all this office entails without Deborah's tutelage. It also gave me the chance to observe up close Deborah's out of the box thinking and her infinite kindness, and for that I am truly grateful. I know Deborah will continue to serve our organization for many years to come. I have asked her to continue the important work she started during her term in the fight against Human Trafficking. We are all very proud of Deborah's work on behalf of the NYWBA, WBASNY and in our continuing fight for justice and equal rights.
I look forward to serving with my wonderful fellow officers, Virginia A. LoPreto, Amy B. Goldsmith, Amanda B. Norejko, Jean J. Han, Magnolia D. Levy and Dawn M. Cardi, all respected professionals and dedicated, hardworking members of our organization. And we all look forward to continuing to work with our Executive Director Karen Lu, the backbone of our organization, who makes all of our jobs easier.
We have all been busy planning a wonderful gathering for our Annual Awards and Installation Dinner at Three Sixty°. I thank Jo Ann Douglas and our Dinner Committee, Dinner Journal and Auction Committees, and all our sponsors, donors, volunteers, friends and Karen Lu, again, for all their work on this event. We meet each year to reconnect and gather in strength and purpose. We have learned in recent months the hard lesson that our democratic institutions are not self-perpetuating, and that a strong and independent judiciary is critical to our survival. That is why I am so proud that we are honoring two great jurists, Chief Judge Janet DiFiore and Hon. Joan B. Lobis, role models for all, examples of integrity, justice and compassion on the bench.
I am looking forward to working with our wonderful Committee Chairs. Our committees are the heart and soul of our organization, and the true reason so many members join our organization. We have organized numerous important programs in the past year, including on Reproductive Rights, Domestic Violence, Ethics, Appellate Practice, to name a few. We have shown the important film "Equal Means Equal" many times, thanks to Fran R. Hoffinger. I know our committee chairs are already planning the year ahead to keep us all informed, engaged, and networking together. If you are concerned about the news you read each day, join one of our fabulous committees. They are working to protect our rights, improve our laws, make us better lawyers and citizens and strengthen our democracy.
Thanks to our Program & Events Committee, we have also joined together to replenish our souls by organizing numerous cultural events from museum tours to theater outings at award winning shows. And thanks to a generous bequest from one of our Founders, Hon. Florence Perlow Sheintag, we have been able to offer our members free CLE programs since 2012, commencing under the term of Hon. Jacqueline W. Silbermann (President 2012-2014). All presidents that have served after Judge Silbermann have been happy to be able to carry this benefit forward for our members. I too, hope to continue this benefit for as long as we can.
I congratulate outgoing WBASNY President Jacqueline P. Flug on a successful term and a job well done. It was a delight working with her and getting to know her. I look forward to working with current WBASNY President Amy Baldwin Littman and her board in the year ahead. We are all especially proud that our own Jennifer P. Brown (President 2015-2016), will be part of Amy's board as Recording Secretary. We know Jennifer will do a fabulous job as a WBASNY officer in light of all her outstanding work for our Chapter and WBASNY to date. Our organizations and the causes we believe in are stronger when we work together.
I look forward to working with our Foundation as they carry on their great work. Please attend their wonderful programs and support their work. Keep up to date with them on our website and in our newsletter.
On Monday, July 17, 2017 we will be co-sponsoring the annual program, founded by our Association more than 20 years ago, the "Martha E. Gifford Annual Summer Program: What It's (Really) Like to Practice Law as a Woman." This program was recently named for Martha "Meg" Gifford (Past President NYWBA and WBASNY) in recognition of her lifelong commitment to mentoring work and the development of this program. It is a free program that offers guidance to law students and new lawyers starting to navigate their careers. It includes a panel of talented, inspiring, thoughtful women attorneys from all areas of the practice and a chance afterwards to mingle over food. Please tell the law students and new lawyers you know about the program and ask your firm to help sponsor this program. I recently read a wonderful quote in an article about Imelme Umana, the first African American woman President of the Harvard Law Review. Her own mentor told her, "You are not successful until you have brought the next woman up. It's not success if its just you. That's evidence of leadership and integrity." I thank Program Co-Chairs Cassandra M. Porter and Victoria A. Turchetti for all their work on this beloved program. I hope to see many of you there sharing your own experiences and thoughts with our attendees.
After we all return from our summer vacations, I look forward to gathering and reconnecting on Monday, September 11, 2017 at our Annual Membership Reception, a fun and free cocktail party hosted by our long time friend and sponsor, Skadden Arps. This is a favorite event of mine as I get to meet so many new members and have the opportunity to hear them discuss their interests, experiences and concerns. Please check our website for information about all our events.
If you have any interest in chairing a committee, putting together a program, writing an article or being considered for our board, please let me know. Remember, we are stronger together.
Myra