New York Women's Bar Association, 132 East 43rd Street, #716, The Chrysler Building, New York, NY, 10017-4019
212-490-8202
877-282-1462 (fax)
www.nywba.org
Message from the President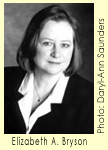 January 2005

Ensuring the Qualifications and Integrity of the Judiciary
I recently came across my original NYWBA membership application, from my first year in law school. Women constituted one-third of my class, but there were few women tenured professors at law schools, partners at law firms, or serving as judges. Tremendous progress has been made, but one of the accomplishments that we can take the most pride in is the huge increase in the number of women sitting on the state and federal bench. At least in this part of the state, women jurists sit on every court and handle every type of matter. Indeed, the majority of the judges on the New York Court of Appeals are women. Not coincidentally, many of the women who have become judges over the years have been active members of the women's bar.
One of the great lights in this regard is our long-time member and past NYWBA President, the Honorable Betty Weinberg Ellerin, Justice of the Appellate Division, First Department, who was honored at the gala celebration of WBASNY's 25th Anniversary in December. WBASNY presented her with the inaugural "Betty Weinberg Ellerin Mentoring Award" at the event, which was held at the New York Botanical Garden. WBASNY President Mindy Zlotogura, Chief Judge Judith Kaye, and many other judges praised Justice Ellerin for her extraordinary accomplishments as a jurist and mentor, and as a true friend to all women attorneys and judges. I am thrilled that the event was such a wonderful success and that we had an opportunity to honor and thank Justice Ellerin, who has always "been there" for so many of us.
Speaking of judges, I have had several occasions over the past two years to consider New York State's process for selecting judges. Last year, after the Commission to Promote Confidence in Judicial Elections issued its "interim report," I was honored to be selected by WBASNY to head a Task Force of chapter presidents to review the Commission's proposals. The initial proposals were presented in good faith, but there were many serious problems with them, including that judges could be required to recuse themselves if their election campaigns had received a cumulative total of $500 or more from any lawyer appearing before them, or from the lawyer's firm, colleagues, family, etc., even if the lawyer was not aware of the other contributions and there was no actual or apparent conflict for the judge handling the matter. Failure to disclose such contributions could result in a disciplinary action against the lawyer, up to and including disbarment! The Task Force took issue with these and other concerns, and in February 2004, the WBASNY Board adopted our proposed comments, which were then submitted to the Commission and OCA.
Over the summer, the Commission issued its final report, and I am thrilled to inform you that in virtually every detail, the Commission heard our concerns and made specific, concrete changes to address them. Gone was the mandatory recusal language, along with the requirement that attorneys somehow be aware of contributions made by others to judges' campaigns at any time over a period of years.
As exciting, the New York State Assembly and the Office of Court Administration have drafted proposed legislation and rules that incorporate most of the ideas that we recommended. At its Board meeting in late November, WBASNY reconstituted the Task Force, which I was honored to again chair, to review the new proposals. Our first project was to review OCA's proposed revisions to the Rules Governing Judicial Conduct, including amendments to Part 100 and the creation of a new Part 150. That mission was completed on December 22nd, when the WBASNY Executive Committee adopted and submitted our recommendations to OCA. We will discuss the comments in a future issue, but the proposed rules are a huge improvement over the original proposals. A number of potential problems remain, however, including a possible challenge to the rules under the U.S. Voting Rights Act and a variety of implementation issues.
The Task Force is now turning to its second project - reviewing two proposed bills before the state legislature. While our review is ongoing, I am pleased that the bills specifically identify WBASNY as one of the organizations that must allowed to participate in the review of candidates for judicial office across the state. This is an enormous honor and vote of confidence, since the only other bar associations mentioned are the New York State Bar Association and the Association of the Bar of the City of New York. We look forward to working with the WBASNY Legislation Committee on the review of these bills.
Coming across my original application has also been a reminder of the importance of membership. As you know, our membership year is measured from June 1 to May 31. There is another date that is crucial, however, and that is January 31 – when we "certify" our membership for the purpose of determining the number of WBASNY delegates we will have next year and the number of votes we will have this year on the Nominations Committee (which decides on the nominees for next year's WBASNY officers). If you have not yet renewed your membership, please do so as soon as possible before January 31st. If you know someone who would like to join, now is the perfect time, since new members can join in January for half-price!
I hope everyone had a wonderful holiday season. A great way to start out the year is by attending our terrific events, including our Reception to Honor Newly-Elected and Appointed Judges on January 20th; our new "Lunch with a Judge" program, which kicks off with Justice Laura Drager on January 6th; the real estate program on January 20th; and our NYWBA "Night at the Theatre" on January 13th. Happy New Year!
~ Beth
Archives
December 2004
In her column in December, President Elizabeth Bryson discussed the importance of speaking out and being heard. She demonstrated the value of the Association's screening of candidates for judicial office, particularly now, when the integrity of the judiciary is under attack. Because many of our members practice in solo and small firm settings, Ms. Bryson recommended that members appear before the Commission on Solo and Small Firm Practice, which is holding hearings and looking for comments, concerns and suggestions to make the lives of attorneys in these settings and their clients easier. Members should also plan to join us at several upcoming events that promise to be very exciting, including the NYWBA Foundation's Breakfast Series Speaker Event, a fundraiser scheduled for December 1st, WBASNY's 25th Anniversary Gala on December 2nd that will pay tribute to our own past President, the Honorable Betty Weinberg Ellerin, for her nearly 50 years of mentoring and service to women attorneys and judges throughout New York and across the country, and the New York Women's Agenda's Star Breakfast on December 7th. To view the President's message in full,
click here
.
November 2004
In her column in November, President Elizabeth Bryson celebrated all the wonderful programs and events that happened this fall, including our
Annual Membership Reception
. She also discussed the recent controversy with respect to screening the qualifications of candidates for judicial office in New York County, which became the subject of an article in the New York Law Journal. To view the President's message in full,
click here
.
September 2004
In her column in September, President Elizabeth Bryson asked members to join her in celebrating the Association's 70th Anniversary year (2004-05). Coincidentally, it was also the 25th anniversary year for the Women's Bar Association of the State of New York (WBASNY), which is the umbrella organization for all 16 women's bar associations across New York State. The NYWBA and its past President Joan Ellenbogen were instrumental in the formation of WBASNY, and it is a joy to see that it is flourishing. This is Beth's second term as President, and in her column she discussed the excitement of continuing programs begun last year and new programs that will begin this year. She also congratulated everyone who was involved in the wonderful year-end festivities, including our Annual Dinner and the WBASNY Convention. To view the President's message in full,
click here
.
April 2004
In her column for April, President Elizabeth Bryson congratulated several women who make history every day, including the 11 honorees designated for Women's History Month by the National Women's History Project and the New York City Commission on Women. She provided an update on the proposed rules that we have supported to allow asylum for women who are victims of domestic violence or other brutality that is directly or indirectly endorsed by their country's governments. Ms. Bryson also highlighted numerous upcoming events, including the NYWBA Annual Meeting and the Annual Ethics Forum, both in April, and the Women's Bar Convention in New Orleans and the NYWBA Annual Dinner, both in May. To view the President's message in full,
click here
. .
March 2004
In her March 2004 column, Ms. Bryson notes that NYWBA's membership has increased by over 33 percent from last year, and nearly 50% from two years ago. She praises the terrific work of NYWBA members, Officers, Board members, Committee Chairs, and others who worked on our membership drive and demonstrate why our bar association is so important, strong and vital. She also salutes two people who may not be lawyers but whose contributions are absolutely invaluable to the Association and the NYWBA Foundation - Executive Director Marta Toro and NYWBA Foundation member Denise Coleman. "Our Association is blessed with so many wonderful women and men who contribute their talents." To view the President's message in full,
click here
.
February 2004
In her February 2004 column, Ms. Bryson discussed the importance of mentoring and networking, especially for women attorneys. She also announces that the Association's Annual Meeting will be on April 28, 2004, when the 2004-05 officers and directors will be elected. Our gala Annual Dinner will be on May 26, 2004. At that event, awards will be presented to Linda Greenhouse, Pulitzer Prize winning author and New York Times reporter covering the U.S. Supreme Court, and the Hon. Jacqueline Silbermann, Administrative Judge of the NY County Supreme Court and Chief Administrative Judge for NYS Matrimonial Courts. To view the President's message in full,
click here
.
December 2003
In her December 2003 column, NYWBA President Elizabeth Bryson profiled important issues for our military, including the incidents of rape and sexual harassment at our military academies, the scourge of domestic violence, and the shameful track record of "don't ask, don't tell." She also discussed our exciting membership drive and the Reception Honoring Newly Elected and Appointed Judges. To view the President's message in full,
click here
.
November 2003
In her November 2003 column, NYWBA President Elizabeth Bryson discusses the importance and benefits of membership, as well as the recent visit of distinguished attorneys from Malaysia who were invited by the U.S. State Department to meet with NYWBA representatives. To view the President's message in full,
click here
.
NYWBA is not responsible for the content of external Internet sites, and the contents of web pages we link to may change without notice.