New York Women's Bar Association, 132 East 43rd Street, #716, The Chrysler Building, New York, NY, 10017-4019
212-490-8202
877-282-1462 (fax)
www.nywba.org
Message from the President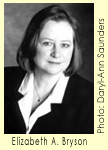 Mentoring, Networking and Opportunity
The Association provides attorneys at every level, from novices to experienced practitioners, many opportunities for networking and mentoring. Our CLE programs, committee meetings, the fall Membership Reception, the Reception Honoring Newly Elected and Appointed Judges in January, and our wonderful Annual Dinner in May, each provide a venue for members to share experiences, to get to know each other, and to mingle with distinguished judges and distinguished attorneys whom they might not otherwise get to know. Often, this leads to mentoring relationships.
I am honored to have had many mentors whom I got to know through Women's Bar events – distinguished jurists and attorneys, such as Chief Judge Judith Kaye, Appellate Division Justice Betty Weinberg Ellerin, past President Laurie Berke-Weiss, and of course our founder, the Honorable Florence Perlow Shientag. Without them, I would not have had the chance to serve our wonderful Association at all, much less as President. I would not have been appointed to a statewide Commission or taken on other challenges that have helped me grow as a professional and a person.
It is self-evident that it is important to have mentors, but our mentors and protégés need not "look like us." Former U.S. Attorneys Robert Fiske and John Martin (now a retired U.S. District Judge) have been very important mentors in my life, though their backgrounds, experiences and life paths have been very different from mine. Why? Because at crucial moments, they made it possible for me to make choices that I didn't even know I was capable of. When I was an Intelligence Analyst with the Justice Department in the Southern District, Bob Fiske supported my decision to go to law school, providing inspiration and understanding to me personally, while also serving as a shining example to us all by dramatically increasing the number of women Assistant U.S. Attorneys. Judge Martin expanded on the appointments of women AUSA's, and he made it possible for me to take a leave of absence (unheard of for a "civil servant") so I could be a Summer Associate at a New York firm. Similarly, after I became an attorney, I worked closely with partner Jack Kaplan at Carter, Ledyard & Milburn, and on a daily basis he provided lessons on the "craft" and "art" of being a fine litigator, the importance of learning not just the facts and the law but the client's goals and values, and how to best develop my own strengths and talents.
Over the years, I have attempted to repay my mentors, and the finest way I have found is to be a mentor to others who are starting out, are considering changing careers or otherwise looking for support. Many of those whom I have had the privilege of mentoring are now Association members, making their own striking contributions.
NYWBA has two formal mentoring programs. First, we have our famous "mentoring circles," which Elise Yablonski does a wonderful job in administering. Each circle consists of about ten members, from different practice areas and varying levels of seniority, who meet regularly during the year. Due to the emphasis on variety within groups, each member serves as a mentor to the others. Over time, successful groups develop trust and cohesiveness and foster the honest exchange of practical advice, perspective, wisdom, and friendship that is the goal of mentoring relationships.
We also have a new program, launched two years ago by WBASNY, to provide mentors to students in their final year of law school and attorneys in their first year of practice. Lisa Bauer is doing a fantastic job with this new program. Of course, there are never enough mentors for the number of prospective protégés, and I encourage you to become a mentor through this program. It doesn't take much time, and it will not only change the life of the person whom you advise, it will change your life as well, providing a richness of experience and a wonderful sense of accomplishment.
I am thrilled to include in this Newsletter the Report of the Nominations Committee, which has nominated an amazing slate of officers and directors, plus delegates to WBASNY. I am particularly honored to have been asked to serve another year as President. Together, we have accomplished a tremendous amount already this year, including dramatically increasing our membership. (As of January 31, we have nearly twice as many members as for all of 2001-02, and a third more than last year; as a result, we will go from having 6 delegates to WBASNY to having 10!). We have presented amazing programs and events, and there are many more to come, including the "Annual Meeting and Ethics Forum" on April 28th, and our Annual Dinner on May 26th. Be sure to mark these important events and our upcoming CLE programs in your calendar.
At the Annual Dinner, we will present our President's Special Award to Linda Greenhouse, the Pulitzer Prize winning author and New York Times reporter who covers the U.S. Supreme Court. In addition, thanks to the generosity of past President Sheila Birnbaum, we will present a new award in honor of Joan Ellenbogen to the Honorable Jacqueline Silbermann, Administrative Judge of the 1st Judicial District and Statewide Administrative Judge for Matrimonial Matters. Justice Silbermann has served our Association in many capacities over the years, most recently as a Board member, and she has had an amazing impact on the practice of matrimonial and family law across the State. We know you will want to join us on May 26th to honor her. We will also present the Award of Merit to two firms that have provided tremendous support to the Association over the years – Davis Polk & Wardwell and Blank Rome LLP. The Annual Dinner promises to be a wonderful event.
Beth
Archives
December 2003
In her December 2003 column, NYWBA President Elizabeth Bryson profiled important issues for our military, including the incidents of rape and sexual harassment at our military academies, the scourge of domestic violence, and the shameful track record of "don't ask, don't tell." She also discussed our exciting membership drive and the Reception Honoring Newly Elected and Appointed Judges. To view the President's message in full,
click here
.
November 2003
In her November 2003 column, NYWBA President Elizabeth Bryson discusses the importance and benefits of membership, as well as the recent visit of distinguished attorneys from Malaysia who were invited by the U.S. State Department to meet with NYWBA representatives. To view the President's message in full,
click here
.
NYWBA is not responsible for the content of external Internet sites, and the contents of web pages we link to may change without notice.