New York Women's Bar Association, 132 East 43rd Street, #716, The Chrysler Building, New York, NY, 10017-4019
212-490-8202
877-282-1462 (fax)
www.nywba.org
Message from the President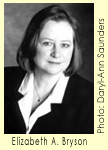 February 2005

Matters of Life and Death
I have been giving a lot of thought to life and death matters of late. A dear friend was recently diagnosed with stage 4 breast cancer, and she is fighting for life with all her considerable might, while maintaining an attitude that we could all aspire to achieve. The doctors who made the initial diagnosis found cancer everywhere. They told her to get her affairs in order and offered only palliative care. She and her family, however, acted as vigorous advocates on her behalf. She found another team of doctors, who have worked hand-in-hand with her to aggressively treat the disease. Now, only a few months after she started chemotherapy, the cancer is nearly undetectable, with only one spot remaining to be treated with radiation. She and her family have had many hardships and sacrifices. No one knows what will happen in the long term, yet she reaches out to her friends and extended family to reassure us and make sure we are okay. Such is the pull of life, that my friend not only fights to live for the sake of herself, her husband and her children, but also makes sure that the life she has is worth living.
I am blessed to have seen this type of heroism before. Two of my brothers died of AIDS, one 10 years ago and the other seven years ago. Each of them lived with the disease for more than a dozen years and had many brushes with death along the way. Yet what I remember is how the bonds between us strengthened through each crisis, and how hard they each worked to make their own passing as small of a burden on us as it could be. As I make my way in the world, I think of my mother – who grew braver, stronger and even more compassionate, even as she lost two of her children. Today, she is the president of an HIV & AIDS foundation in Washington State, where she lives. She lectures widely to promote tolerance and understanding and has personally helped hundreds of people make it through another day. To quote from an unlikely source (the movie "Trainspotting"), my friend and mom demonstrate just how essential it is to "Choose Life."
This brings me to the serious topic of the death penalty. In January, WBASNY submitted written testimony to the Assembly Standing Committee on Codes, Assembly Standing Committee on the Judiciary, and Assembly Standing Committee on Correction, which are holding joint hearings to examine the future of capital punishment in New York State. The WBASNY Criminal Law and Legislative Committees did a masterful job of examining the history and policy issues and preparing a powerful statement in opposition to the death penalty. "We believe that New York, progressive in its approach to fairness and justice in the courts, can and should be a leader in the movement against capital punishment." WBASNY cited many reasons, including: 1) It is impossible to draft a death penalty statute that is not subject to error – just since 1973, 117 people on death row have been exonerated and freed. 2) Capital punishment is discrimination in action. Race has a proven disproportionate impact on whether a death sentence is imposed. 3) FBI statistics confirm that capital punishment does not deter murder; homicide rates in non-death penalty states have always been lower than in states with the death penalty. The full testimony is reprinted on the WBASNY website (
www.wbasny.org
). I am heartened that the women's bar has again taken a stand on this crucial issue.
Turning to an important administrative matter, the Association has begun a search for a new Executive Director. For the past two years, Marta Toro has done a terrific job as our Executive Director. She has been at every event, organized our membership and administrative functions, and handled our financial transactions. Marta recently informed us that she is taking a new position as of June 1st. We wish her the very best. We would like to have the new person or firm in place before May 1st, to ensure a smooth transition. A description of the position appears on page 5. If you or someone you know would be interested in providing professional and administrative services to the Association, please send us a resume, cover letter and references (by email to
info@nywba.org
or by regular mail to the Association's address).
I am pleased to report that the Nominations Committee has nominated a wonderful slate of candidates for 2005-06. (See the Committee's Report, reprinted on page 2.) I am thrilled that First Vice President Christina Kallas has been nominated to be President. I know she will do a terrific job. The elections will take place at our Annual Meeting on April 21st. Immediately following, the Committee on the Advancement of Women in the Profession will present a CLE program on "Evolving Career Opportunities for Women Lawyers." This will be a great evening, so mark your calendars.
As you know, this is our 70th Anniversary year. We will hold our gala Annual Dinner and anniversary celebration on June 1st at the Grand Hyatt. The festivities will include a tribute to all of our past Presidents, who serve on our Advisory Council. We have some amazing past Presidents, including many judges and incredibly accomplished attorneys. We are planning to have our best Journal ever, with pages of historical materials and lots of room for ads and tributes. The prestigious Dinner Committee is in formation, so if you would like to join us in the planning for this exciting event, or you are interested in placing a Journal ad or tribute, just send a note to me at
president@nywba.org
or call 212-360-7055. I am very honored to have served as President of this important organization in our anniversary year, and I am sure that the Annual Dinner will be amazing. Be sure to Save the Date!
~ Beth
Archives
January 2005
In her column in January, President Elizabeth Bryson discussed the importance of taking steps to ensure that judges in New York have the appropriate qualifications and integrity to ensure the fair and equal administration of justice. She discusses pending legislation and proposed amendments to the Rules of Judicial Conduct that would have an influence on the method of selecting state court judges and the rules that would apply to candidates for judicial office in New York. Ms. Bryson was honored to chair a WBASNY Task Force to look at the proposed legislation and rule changes, and she discusses the process and proposals. She also describes the recent gala celebration WBASNY's 25 Anniversary and the wonderful presentation of the inaugural "Betty Weinberg Ellerin Mentoring Award" to Justice Ellerin. Finally, she reminds everyone of the importance of ensuring that their membership is renewed by January 31, 2005. New members are also welcome, and they can join for half-price dues starting in January! To view the President's Message in full,
click here
.
December 2004
In her column in December, President Elizabeth Bryson discussed the importance of speaking out and being heard. She demonstrated the value of the Association's screening of candidates for judicial office, particularly now, when the integrity of the judiciary is under attack. Because many of our members practice in solo and small firm settings, Ms. Bryson recommended that members appear before the Commission on Solo and Small Firm Practice, which is holding hearings and looking for comments, concerns and suggestions to make the lives of attorneys in these settings and their clients easier. Members should also plan to join us at several upcoming events that promise to be very exciting, including the NYWBA Foundation's Breakfast Series Speaker Event, a fundraiser scheduled for December 1st, WBASNY's 25th Anniversary Gala on December 2nd that will pay tribute to our own past President, the Honorable Betty Weinberg Ellerin, for her nearly 50 years of mentoring and service to women attorneys and judges throughout New York and across the country, and the New York Women's Agenda's Star Breakfast on December 7th. To view the President's message in full,
click here
.
November 2004
In her column in November, President Elizabeth Bryson celebrated all the wonderful programs and events that happened this fall, including our
Annual Membership Reception
. She also discussed the recent controversy with respect to screening the qualifications of candidates for judicial office in New York County, which became the subject of an article in the New York Law Journal. To view the President's message in full,
click here
.
September 2004
In her column in September, President Elizabeth Bryson asked members to join her in celebrating the Association's 70th Anniversary year (2004-05). Coincidentally, it was also the 25th anniversary year for the Women's Bar Association of the State of New York (WBASNY), which is the umbrella organization for all 16 women's bar associations across New York State. The NYWBA and its past President Joan Ellenbogen were instrumental in the formation of WBASNY, and it is a joy to see that it is flourishing. This is Beth's second term as President, and in her column she discussed the excitement of continuing programs begun last year and new programs that will begin this year. She also congratulated everyone who was involved in the wonderful year-end festivities, including our Annual Dinner and the WBASNY Convention. To view the President's message in full,
click here
.
April 2004
In her column for April, President Elizabeth Bryson congratulated several women who make history every day, including the 11 honorees designated for Women's History Month by the National Women's History Project and the New York City Commission on Women. She provided an update on the proposed rules that we have supported to allow asylum for women who are victims of domestic violence or other brutality that is directly or indirectly endorsed by their country's governments. Ms. Bryson also highlighted numerous upcoming events, including the NYWBA Annual Meeting and the Annual Ethics Forum, both in April, and the Women's Bar Convention in New Orleans and the NYWBA Annual Dinner, both in May. To view the President's message in full,
click here
. .
March 2004
In her March 2004 column, Ms. Bryson notes that NYWBA's membership has increased by over 33 percent from last year, and nearly 50% from two years ago. She praises the terrific work of NYWBA members, Officers, Board members, Committee Chairs, and others who worked on our membership drive and demonstrate why our bar association is so important, strong and vital. She also salutes two people who may not be lawyers but whose contributions are absolutely invaluable to the Association and the NYWBA Foundation - Executive Director Marta Toro and NYWBA Foundation member Denise Coleman. "Our Association is blessed with so many wonderful women and men who contribute their talents." To view the President's message in full,
click here
.
February 2004
In her February 2004 column, Ms. Bryson discussed the importance of mentoring and networking, especially for women attorneys. She also announces that the Association's Annual Meeting will be on April 28, 2004, when the 2004-05 officers and directors will be elected. Our gala Annual Dinner will be on May 26, 2004. At that event, awards will be presented to Linda Greenhouse, Pulitzer Prize winning author and New York Times reporter covering the U.S. Supreme Court, and the Hon. Jacqueline Silbermann, Administrative Judge of the NY County Supreme Court and Chief Administrative Judge for NYS Matrimonial Courts. To view the President's message in full,
click here
.
December 2003
In her December 2003 column, NYWBA President Elizabeth Bryson profiled important issues for our military, including the incidents of rape and sexual harassment at our military academies, the scourge of domestic violence, and the shameful track record of "don't ask, don't tell." She also discussed our exciting membership drive and the Reception Honoring Newly Elected and Appointed Judges. To view the President's message in full,
click here
.
November 2003
In her November 2003 column, NYWBA President Elizabeth Bryson discusses the importance and benefits of membership, as well as the recent visit of distinguished attorneys from Malaysia who were invited by the U.S. State Department to meet with NYWBA representatives. To view the President's message in full,
click here
.
NYWBA is not responsible for the content of external Internet sites, and the contents of web pages we link to may change without notice.