New York Women's Bar Association, 132 East 43rd Street, #716, The Chrysler Building, New York, NY, 10017-4019
212-490-8202
877-282-1462 (fax)
www.nywba.org
Message from the President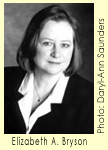 Balance and Accomplishment
One of the things that always amazes me about our members is how incredibly busy they are – in firms, companies, on the bench and at home – and yet they somehow find time to contribute their time and energy to this Association, our Foundation, WBASNY, and other civic and charitable pursuits.
This was never clearer than in our recent membership drive. I am thrilled to announce that our membership is up by over 33% from last year, and nearly 50% from two years ago. As a result, we will now have 10 delegates to the WBASNY Board of Directors, up from 6. This increase can be attributed to many factors, but it is mostly a tribute to the terrific work of members, the Board, and committee chairs. Each of these people has a full-time job, and many have significant responsibilities at home. Yet they give of themselves to ensure that our Association is strong and vital.
I need to single out three individuals – Teresa Schiller, Elise Yablonski and Lisa Sokoloff. Teresa personally recruited more than 75 new members this year, an incredible achievement. As important, her new members are now actively serving on numerous NYWBA and WBASNY Committees. Elise Yablonski is our leader in bringing past members back to the Association to renew their memberships. Lisa Sokoloff served as Co-Chair of our Membership Committee, and she is responsible for very successful events at law firms and courts, where we had the opportunity to discuss the Association and the important work that we and our Foundation do to improve the fair and equal administration of justice. It is through the efforts of these women and many others that we can proudly proclaim that we are once again the largest chapter of WBASNY!
Of course, the drive for membership is never closed. Membership is open year-round. Remember – new members who join for the first time after January 1st pay half-price membership dues. If you know people who would be great members, please direct them to our website (www.nywba.org), where they can download a membership application. Alternatively, call me or Executive Director Marta Toro, and one of us will send along an application.
Speaking of the web site, have you visited it lately? The site has a whole new "look and feel" that is professional, inviting and informative. Forget when or where an event is going to be held? Just check the website. Need the phone number for a Committee Chair? It's on the website. As we announced last month, our "member pages" of the website are easy to access – just type "NYWBA" as your user name, and "justice" as the password. Remember – password information is for members only.
I am also thrilled that our Trusts & Estates Committee has been revitalized under its terrific new Co-Chairs, Leona Beane, Loretta Ippolito and Corinne Marcus. A report on this Committee is included in this month's Newsletter. New co-chairs have been named for the Business Law, Tax & Bankruptcy Committee as well. A list of committees can be found on the website. If you would like to join these or any other committees, please send a note to
info@nywba.org
or call 212-360-7055.
In the area of accomplishment under extraordinary circumstances, some of the people who make huge contributions to our Association are not attorneys. Marta Toro has done an incredible job in the eight months since she became Executive Director. She has revamped our procedures for handling CLE programs; upgraded our database and recommended further enhancements; and handled all of the paperwork, deposits, and reporting associated with our huge increase in membership. She has also been a warm and professional presence at our events and in communications with our members. She deserves all our kudos and respect.
I would be remiss if I did not also mention Denise Coleman, who is a member of our NYWBA Foundation Board of Directors. Denise is a marvel. After a long career as a professional fund-raiser and manager of numerous charities, Denise was forced to retire due to the devastating impact of multiple sclerosis. She is in constant pain, and she often cannot see for long periods of time. Yet she has served on our Foundation Board with distinction. She comes to every Foundation Board meeting, and she is instrumental in working with Foundation President Kathy Posner to help set the Foundation's very ambitious and accomplished agenda. She is full of wonderful ideas and innovation, has written numerous articles for the newsletter, and has made a world of difference in the lives of the people who are the beneficiaries of the Foundation's charitable work. I am in awe of her courage and conviction.
I would also like to salute Board member Nancy Lazar, who has also struggled with health issues in the recent past and yet has contributed to our Association in a myriad of ways, all while performing hundreds of hours of pro bono work on behalf of women seeking asylum from the harsh regimes in their native countries. After many years, Nancy will be leaving the Board at the end of this term. I am thrilled that she will continue as a Foundation Board member and will contribute to other programs and events.
Our Association is blessed with so many women and men who contribute their talents to our Association. There is an old saying that if you want to get something done, give it to someone who is busy. There is simply no doubt that our members are busy and that they get things done!
~ Beth
Archives
February 2004
In her February 2004 column, Ms. Bryson discussed the importance of mentoring and networking, especially for women attorneys. She also announces that the Association's Annual Meeting will be on April 28, 2004, when the 2004-05 officers and directors will be elected. Our gala Annual Dinner will be on May 26, 2004. At that event, awards will be presented to Linda Greenhouse, Pulitzer Prize winning author and New York Times reporter covering the U.S. Supreme Court, and the Hon. Jacqueline Silbermann, Administrative Judge of the NY County Supreme Court and Chief Administrative Judge for NYS Matrimonial Courts. To view the President's message in full,
click here
.
December 2003
In her December 2003 column, NYWBA President Elizabeth Bryson profiled important issues for our military, including the incidents of rape and sexual harassment at our military academies, the scourge of domestic violence, and the shameful track record of "don't ask, don't tell." She also discussed our exciting membership drive and the Reception Honoring Newly Elected and Appointed Judges. To view the President's message in full,
click here
.
November 2003
In her November 2003 column, NYWBA President Elizabeth Bryson discusses the importance and benefits of membership, as well as the recent visit of distinguished attorneys from Malaysia who were invited by the U.S. State Department to meet with NYWBA representatives. To view the President's message in full,
click here
.
NYWBA is not responsible for the content of external Internet sites, and the contents of web pages we link to may change without notice.