New York Women's Bar Association, 132 East 43rd Street, #716, The Chrysler Building, New York, NY, 10017-4019
212-490-8202
877-282-1462 (fax)
www.nywba.org
Message from the President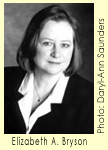 April 2005

Sexual Politics & "Women's Work"
We all have moments that change our lives. When I was around 13, I remember telling my siblings that "when I go to college" I would do this or that. The substance was not particularly memorable, but I was overheard by my father, who had taken some college courses but, because of World War II and his Navy career, had never had the chance to graduate from college. He said he wasn't sure that with such a big family and his military pay that there would be enough money for any of us to go to college, but if there was, it "would go to the boys, since they will have to raise families." I was outraged. I was also determined to prove myself worthy of a college education and the future that would mean for me. As the years passed, my father's first prediction came true – my siblings and I had to earn our way through school – through merit scholarships and income from working. My dad did not see the irony as my three brothers dropped out for various reasons, while the three girls not only graduated from college but achieved graduate degrees. Whenever it was especially hard, I thought about how I would not be defined by anyone else's limited vision of my options as a woman.
My dad's views seem archaic today, but to his way of thinking, it was perfectly logical. He was simply warning me about the "realities" of the world, based on his experiences and understanding. So what is Lawrence Summers' excuse? At a conference in January, Mr. Summers, the President of Harvard University, was asked to speak about "women's representation in tenured positions in science and engineering." During his speech, he opined that, in general, women lack innate ability in math and science. He used his twin daughters as an example – when they were given trucks, one of them remarked that the "daddy truck" was carrying the "baby truck." This "told [him] something," and he concluded that women are programmed to be more nurturing and less analytical, and that people gravitate to what they feel comfortable with, which for women is not science or engineering. He also intimated that by having families women opt out, and he questioned women's desire to put in 80-hour weeks, stating, "[W]ho wants to do the high-powered work?" (He obviously has never seen a woman lawyer preparing for trial!) He discounted the impact of discrimination, believing that self-selection into fields where one sees people like oneself was more likely than the impact of prejudices over what women can achieve or discrimination and lack of opportunity. He noted that the paucity of women in science professions is not the only example of under representation, citing the lack of "Catholics … in investment banking," "white men … in the NBA", and "Jews … in farming and agriculture." He said he would "like to be proved wrong," but it was clear he did not expect to be. (The speech is reprinted at http://www.president.harvard.edu/speeches/2005/nber.shtml).
Mr. Summers' remarks have been roundly criticized. Respected scientists question his hypotheses and conclusions. Magazines have run cover stories on the issue. The Harvard College of Arts and Sciences professors issued a vote of "no confidence." Mr. Summers even issued an apology, admitting that, "The human potential to excel in science is not … the province of one gender or the other." Last month, Harvard formed task forces on women in academia in general and women in science and engineering in particular. Perhaps, as with my father's remarks, the strong reaction to Mr. Summers' statements will create the best possible outcome – it will prove, as he wished, that he was wrong.
The NYWBA, Foundation and WBASNY have been busy over the winter months. In this issue, you can take advantage of numerous opportunities. You can attend our next "
Lunch with a Judge
" program, which provides an intimate glimpse of the workings of the court. On April 21st you can attend our
Annual Meeting
and elections, and a terrific
CLE program
on "
Evolving Career Opportunities for Women Lawyers
." We have included a registration form for the
2005 WBASNY Annual Convention
. I am honored that I will be installed as a WBASNY Vice President at the Convention, and I hope to see you there!
I am so proud of the Foundation for establishing their new
Annual Giving Club
and holding their renowned speaker series events, which raise funds for fellowships at charities that serve women in need, such as victims of domestic violence. The next
Breakfast Speaker Event
will be on April 26th, featuring
Margaret Burk
, who is most famous for her stand against the Augusta Golf Club for discriminating against women.
Our 70th Anniversary celebration is scheduled for June 1st. We will be honoring our
founders
, including
Hon. Florence Perlow Shientag
, and our
past Presidents
at this event. It has been such a joy to speak with so many of them about their experiences. We will also be honoring past President of NYWBA and WBASNY
Myrna Felder
with the President's Special Award and
Patricia Hynes
, Chairwoman of the Legal Aid Society, with the Joan L. Ellenbogen Award, which is kindly underwritten by past President
Sheila Birnbaum
.
Clifford Chance LLP
and
Condon & Forsyth LLP
will be presented with NYWBA Awards of Merit for their support of the NYWBA's mission and dedication to pro bono and charitable activities. It is going to be an amazing evening. I hope you will also purchase tribute ads to honor your friends and colleagues in the commemorative Journal, which will include a glossy section on the Association's history. I look forward to seeing you and to proving once again that other people cannot determine our destinies for us – we chart that course ourselves.
~ Beth
Archives
February 2005
In her column in February, President Elizabeth Bryson talked about matters of life and death. She related the experiences of a friend fighting breast cancer and her mother and family addressing the loss of two brothers to AIDS several years ago, and how each circumstance, though very different, teaches us once again the importance of choosing to live life to its fullest every day. By contrast, she considers the proposal in the NYS Legislature to reinstate the death penalty, and WBASNY's brave stance in opposition. To view the President's Message in full,
click here
.
January 2005
In her column in January, President Elizabeth Bryson discussed the importance of taking steps to ensure that judges in New York have the appropriate qualifications and integrity to ensure the fair and equal administration of justice. She discusses pending legislation and proposed amendments to the Rules of Judicial Conduct that would have an influence on the method of selecting state court judges and the rules that would apply to candidates for judicial office in New York. Ms. Bryson was honored to chair a WBASNY Task Force to look at the proposed legislation and rule changes, and she discusses the process and proposals. She also describes the recent gala celebration WBASNY's 25 Anniversary and the wonderful presentation of the inaugural "Betty Weinberg Ellerin Mentoring Award" to Justice Ellerin. Finally, she reminds everyone of the importance of ensuring that their membership is renewed by January 31, 2005. New members are also welcome, and they can join for half-price dues starting in January! To view the President's Message in full,
click here
.
December 2004
In her column in December, President Elizabeth Bryson discussed the importance of speaking out and being heard. She demonstrated the value of the Association's screening of candidates for judicial office, particularly now, when the integrity of the judiciary is under attack. Because many of our members practice in solo and small firm settings, Ms. Bryson recommended that members appear before the Commission on Solo and Small Firm Practice, which is holding hearings and looking for comments, concerns and suggestions to make the lives of attorneys in these settings and their clients easier. Members should also plan to join us at several upcoming events that promise to be very exciting, including the NYWBA Foundation's Breakfast Series Speaker Event, a fundraiser scheduled for December 1st, WBASNY's 25th Anniversary Gala on December 2nd that will pay tribute to our own past President, the Honorable Betty Weinberg Ellerin, for her nearly 50 years of mentoring and service to women attorneys and judges throughout New York and across the country, and the New York Women's Agenda's Star Breakfast on December 7th. To view the President's message in full,
click here
.
November 2004
In her column in November, President Elizabeth Bryson celebrated all the wonderful programs and events that happened this fall, including our
Annual Membership Reception
. She also discussed the recent controversy with respect to screening the qualifications of candidates for judicial office in New York County, which became the subject of an article in the New York Law Journal. To view the President's message in full,
click here
.
September 2004
In her column in September, President Elizabeth Bryson asked members to join her in celebrating the Association's 70th Anniversary year (2004-05). Coincidentally, it was also the 25th anniversary year for the Women's Bar Association of the State of New York (WBASNY), which is the umbrella organization for all 16 women's bar associations across New York State. The NYWBA and its past President Joan Ellenbogen were instrumental in the formation of WBASNY, and it is a joy to see that it is flourishing. This is Beth's second term as President, and in her column she discussed the excitement of continuing programs begun last year and new programs that will begin this year. She also congratulated everyone who was involved in the wonderful year-end festivities, including our Annual Dinner and the WBASNY Convention. To view the President's message in full,
click here
.
April 2004
In her column for April, President Elizabeth Bryson congratulated several women who make history every day, including the 11 honorees designated for Women's History Month by the National Women's History Project and the New York City Commission on Women. She provided an update on the proposed rules that we have supported to allow asylum for women who are victims of domestic violence or other brutality that is directly or indirectly endorsed by their country's governments. Ms. Bryson also highlighted numerous upcoming events, including the NYWBA Annual Meeting and the Annual Ethics Forum, both in April, and the Women's Bar Convention in New Orleans and the NYWBA Annual Dinner, both in May. To view the President's message in full,
click here
. .
March 2004
In her March 2004 column, Ms. Bryson notes that NYWBA's membership has increased by over 33 percent from last year, and nearly 50% from two years ago. She praises the terrific work of NYWBA members, Officers, Board members, Committee Chairs, and others who worked on our membership drive and demonstrate why our bar association is so important, strong and vital. She also salutes two people who may not be lawyers but whose contributions are absolutely invaluable to the Association and the NYWBA Foundation - Executive Director Marta Toro and NYWBA Foundation member Denise Coleman. "Our Association is blessed with so many wonderful women and men who contribute their talents." To view the President's message in full,
click here
.
February 2004
In her February 2004 column, Ms. Bryson discussed the importance of mentoring and networking, especially for women attorneys. She also announces that the Association's Annual Meeting will be on April 28, 2004, when the 2004-05 officers and directors will be elected. Our gala Annual Dinner will be on May 26, 2004. At that event, awards will be presented to Linda Greenhouse, Pulitzer Prize winning author and New York Times reporter covering the U.S. Supreme Court, and the Hon. Jacqueline Silbermann, Administrative Judge of the NY County Supreme Court and Chief Administrative Judge for NYS Matrimonial Courts. To view the President's message in full,
click here
.
December 2003
In her December 2003 column, NYWBA President Elizabeth Bryson profiled important issues for our military, including the incidents of rape and sexual harassment at our military academies, the scourge of domestic violence, and the shameful track record of "don't ask, don't tell." She also discussed our exciting membership drive and the Reception Honoring Newly Elected and Appointed Judges. To view the President's message in full,
click here
.
November 2003
In her November 2003 column, NYWBA President Elizabeth Bryson discusses the importance and benefits of membership, as well as the recent visit of distinguished attorneys from Malaysia who were invited by the U.S. State Department to meet with NYWBA representatives. To view the President's message in full,
click here
.
NYWBA is not responsible for the content of external Internet sites, and the contents of web pages we link to may change without notice.