New York Women's Bar Association, 132 East 43rd Street, #716, The Chrysler Building, New York, NY, 10017-4019
212-490-8202
877-282-1462 (fax)
www.nywba.org
Message from the President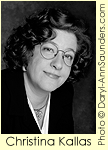 June 2005

The More Things Change . . .
June is a time of great change for our organization -- new officers, new Board members, a new budget and fiscal year. As incoming President, I have been spending a great deal of time learning the ins and outs of our existing procedures, always with a question in my mind: what is it that we are doing that works well? What are we doing that we need to change? What haven't we done that we ought to do? Change, and continuity, are themes that I have been thinking about a great deal recently.
I have just returned from the trip of a lifetime. My husband and I traveled to Greece this year for Easter. Greece is a country whose population is predominantly Orthodox Christian. Having been raised in Manhattan, I have always taken the multicultural norms of this island for granted. Yet in the back of my mind I have always wondered -- what would it be like to spend Easter in a country where everyone else was celebrating the same holiday at the same time, instead of celebrating Easter a month after the rest of the Christian world? Where I don't have to explain all of our customs, because everyone else knows what happens on Holy Wednesday, Holy Thursday, Holy Friday?
It was truly an amazing trip. Visiting several 1000-year-old churches in the Plaka neighborhood of Athens, seeing the remnants of the very first Christian churches on the Acropolis (which "took over" the temples previously sacred to pagan gods), ushering in the Resurrection in the courtyard of an ancient monastery, these were indeed exceptional experiences. To stand in the same place and sing the same hymns that people have been singing for a millennium or more gives those hymns a new weight. I felt connected to my past in a way that surprised me.
Preparing to be installed as president of the NYWBA at our Annual Dinner, in front of many of our Past Presidents who are making the trip especially to celebrate our 70th Anniversary, gave me a similar feeling. I felt supported by a sense that this organization has a substance, a history made by these women and so many others who preceded us. Many of them came to the practice of law in spite of enormous obstacles. Many of them have amassed incredible accomplishments, not the least of which is raising children while practicing law in an environment that has never been as supportive as it could have been.
I learned so much of the NYWBA history this year, while working on our Annual Dinner Journal. So many of you were generous in contributing memorabilia, which we will treasure going forward.
Our certificate of incorporation was signed in 1935. To give you an idea of what that year must have been like, I did a bit of research. In that year: Iceland became the first country to legalize abortion. Vitamin C was the first vitamin to be artificially synthesized. Amelia Earhart became the first person to fly solo across the Pacific Ocean. The lie detector and blood typing were first used in criminal investigations. Bruno Hauptmann was sentenced to die for killing the Lindbergh baby. Airplanes were no longer permitted to fly over the White House The Academy Award went to "It Happened One Night" for Best Film; Best Actress: Claudette Colbert, Best Actor: Clark Gable, and Best Director: Frank Capra. "Your Hit Parade" and "Flash Gordon" debuted. The first round-the-world telephone conversation occurred. Babe Ruth retired from professional baseball after 22 seasons, 714 home runs and 1,330 strikeouts. Jesse Owens equaled or broke 6 world records in one hour. The Nuremberg Laws deprived German Jews of citizenship and made the swastika the official symbol of Nazi Germany. Congress passed the National Labor Relations Act, the Social Security Act, and the United States Neutrality Act. Senator Huey Long was assassinated. Italian troops invaded Ethiopia; the League of Nations imposed sanctions on Italy. In New York City, the Hayden Planetarium, the Frick Gallery, and Porgy and Bess opened. Ozzie Nelson married Harriet Hilliard. John L. Lewis established the Committee for Industrial Organization (CIO). Songs released in 1935 included "Cheek to Cheek," "I'm in the Mood for Love," and "Lullaby of Broadway." Alcoholics Anonymous was formed. The first automatic parking meter was installed in Oklahoma City. Charles Darrow patented Monopoly.
...the more they stay the same.
So it is with a sense of bemusement that I note that NY State Senator Tom Duane and State Assemblyman Jonathan Bing have introduced legislation that would amend Article 1 of the NYS Constitution to ensure that no person be denied equal protection under state law based on his or her gender, a so-called "NY ERA." In the words of Yogi Berra, it feels like "deja vu all over again."
On the NYS Assembly website,
http://assembly.state.ny.us/leg
, there is a summary of the status of the bill, including this paragraph:
JUSTIFICATION: Only a constitutional amendment will guarantee that women and men are treated equally under the law. Further, a constitutional amendment will require that the courts of New York use a strict scrutiny standard when reviewing cases of sex discrimination. In the 21st century, in New York, it is inconceivable that women do not have the constitutional protection of being treated equally under the law.
Res ipsa loquitur
. Please renew your membership. Our new year starts on June 1. We have accomplished an enormous amount. And there is a lot more for us to do. I look forward to continuing the work of our foremothers.
And I look forward to hearing from each of you about what it is we ought to be doing during our eighth decade. This is your organization -- please feel free to email me at:
President@nywba.org
with your ideas and suggestions, especially if you are willing to roll up your sleeves and make things happen.
Archives
April 2005
In her column in April, President Elizabeth Bryson talked about sexual politics and "women's work." She took issue with Harvard President Lawrence Summers' recent remarks implying that women are innately less suited to pursing careers in science or engineering. Such retrograde thinking is self-defeating. Mr. Summers had to apologize, and Harvard is now actively address the status of women in academia. Ms. Bryson also discussed upcoming events, including the Association's Annual Meeting, a CLE program on "Evolving Opportunities for Women' Lawyers," the Foundation's next fundraising breakfast, the WBASNY Convention, and of course our fantastic 70th Anniversary celebration on June 1st. To view the President's Message in full,
click here
.
February 2005
In her column in February, President Elizabeth Bryson talked about matters of life and death. She related the experiences of a friend fighting breast cancer and her mother and family addressing the loss of two brothers to AIDS several years ago, and how each circumstance, though very different, teaches us once again the importance of choosing to live life to its fullest every day. By contrast, she considers the proposal in the NYS Legislature to reinstate the death penalty, and WBASNY's brave stance in opposition. To view the President's Message in full,
click here
.
January 2005
In her column in January, President Elizabeth Bryson discussed the importance of taking steps to ensure that judges in New York have the appropriate qualifications and integrity to ensure the fair and equal administration of justice. She discusses pending legislation and proposed amendments to the Rules of Judicial Conduct that would have an influence on the method of selecting state court judges and the rules that would apply to candidates for judicial office in New York. Ms. Bryson was honored to chair a WBASNY Task Force to look at the proposed legislation and rule changes, and she discusses the process and proposals. She also describes the recent gala celebration WBASNY's 25 Anniversary and the wonderful presentation of the inaugural "Betty Weinberg Ellerin Mentoring Award" to Justice Ellerin. Finally, she reminds everyone of the importance of ensuring that their membership is renewed by January 31, 2005. New members are also welcome, and they can join for half-price dues starting in January! To view the President's Message in full,
click here
.
December 2004
In her column in December, President Elizabeth Bryson discussed the importance of speaking out and being heard. She demonstrated the value of the Association's screening of candidates for judicial office, particularly now, when the integrity of the judiciary is under attack. Because many of our members practice in solo and small firm settings, Ms. Bryson recommended that members appear before the Commission on Solo and Small Firm Practice, which is holding hearings and looking for comments, concerns and suggestions to make the lives of attorneys in these settings and their clients easier. Members should also plan to join us at several upcoming events that promise to be very exciting, including the NYWBA Foundation's Breakfast Series Speaker Event, a fundraiser scheduled for December 1st, WBASNY's 25th Anniversary Gala on December 2nd that will pay tribute to our own past President, the Honorable Betty Weinberg Ellerin, for her nearly 50 years of mentoring and service to women attorneys and judges throughout New York and across the country, and the New York Women's Agenda's Star Breakfast on December 7th. To view the President's message in full,
click here
.
November 2004
In her column in November, President Elizabeth Bryson celebrated all the wonderful programs and events that happened this fall, including our
Annual Membership Reception
. She also discussed the recent controversy with respect to screening the qualifications of candidates for judicial office in New York County, which became the subject of an article in the New York Law Journal. To view the President's message in full,
click here
.
September 2004
In her column in September, President Elizabeth Bryson asked members to join her in celebrating the Association's 70th Anniversary year (2004-05). Coincidentally, it was also the 25th anniversary year for the Women's Bar Association of the State of New York (WBASNY), which is the umbrella organization for all 16 women's bar associations across New York State. The NYWBA and its past President Joan Ellenbogen were instrumental in the formation of WBASNY, and it is a joy to see that it is flourishing. This is Beth's second term as President, and in her column she discussed the excitement of continuing programs begun last year and new programs that will begin this year. She also congratulated everyone who was involved in the wonderful year-end festivities, including our Annual Dinner and the WBASNY Convention. To view the President's message in full,
click here
.
April 2004
In her column for April, President Elizabeth Bryson congratulated several women who make history every day, including the 11 honorees designated for Women's History Month by the National Women's History Project and the New York City Commission on Women. She provided an update on the proposed rules that we have supported to allow asylum for women who are victims of domestic violence or other brutality that is directly or indirectly endorsed by their country's governments. Ms. Bryson also highlighted numerous upcoming events, including the NYWBA Annual Meeting and the Annual Ethics Forum, both in April, and the Women's Bar Convention in New Orleans and the NYWBA Annual Dinner, both in May. To view the President's message in full,
click here
. .
March 2004
In her March 2004 column, Ms. Bryson notes that NYWBA's membership has increased by over 33 percent from last year, and nearly 50% from two years ago. She praises the terrific work of NYWBA members, Officers, Board members, Committee Chairs, and others who worked on our membership drive and demonstrate why our bar association is so important, strong and vital. She also salutes two people who may not be lawyers but whose contributions are absolutely invaluable to the Association and the NYWBA Foundation - Executive Director Marta Toro and NYWBA Foundation member Denise Coleman. "Our Association is blessed with so many wonderful women and men who contribute their talents." To view the President's message in full,
click here
.
February 2004
In her February 2004 column, Ms. Bryson discussed the importance of mentoring and networking, especially for women attorneys. She also announces that the Association's Annual Meeting will be on April 28, 2004, when the 2004-05 officers and directors will be elected. Our gala Annual Dinner will be on May 26, 2004. At that event, awards will be presented to Linda Greenhouse, Pulitzer Prize winning author and New York Times reporter covering the U.S. Supreme Court, and the Hon. Jacqueline Silbermann, Administrative Judge of the NY County Supreme Court and Chief Administrative Judge for NYS Matrimonial Courts. To view the President's message in full,
click here
.
December 2003
In her December 2003 column, NYWBA President Elizabeth Bryson profiled important issues for our military, including the incidents of rape and sexual harassment at our military academies, the scourge of domestic violence, and the shameful track record of "don't ask, don't tell." She also discussed our exciting membership drive and the Reception Honoring Newly Elected and Appointed Judges. To view the President's message in full,
click here
.
November 2003
In her November 2003 column, NYWBA President Elizabeth Bryson discusses the importance and benefits of membership, as well as the recent visit of distinguished attorneys from Malaysia who were invited by the U.S. State Department to meet with NYWBA representatives. To view the President's message in full,
click here
.
NYWBA is not responsible for the content of external Internet sites, and the contents of web pages we link to may change without notice.