New York Women's Bar Association, 132 East 43rd Street, #716, The Chrysler Building, New York, NY, 10017-4019
212-490-8202
877-282-1462 (fax)
www.nywba.org
Message from the President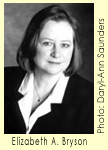 A New Year
I am thrilled to serve a second term as President of the Association in this, our 70th anniversary year. It has been more than forty years since we had a president who served two terms. I am honored, but I know that our accomplishments are far from mine alone. We have wonderful officers, directors and committee chairs, who perform miracles every day.
I am pleased to report that we will hold numerous events this year to celebrate our 70th anniversary and the 25th anniversary of the Women's Bar Association of the State of New York (WBASNY), of which we are a member. To kick off the celebrations, we had a special trip to a New York Liberty game on July 31st. As most of you know, the Liberty are New York's elite professional women's basketball team. The event was on Breast Health Awareness Night, and every member who attended got a special Liberty shirt. Even better, the Liberty won!
Our very popular annual program for summer associates and interns entitled "What It's
Like to Practice Law in NYC as a Woman" was held on July 14th. We co-sponsor this program with the City Bar, and as always it was a huge success, with more than 350 in attendance. We were also thrilled that we received quite a few membership applications from women whose first contact with the Association was attending this program. I want to thank Board member Lisa Bauer and the entire team for their work on this program.

I am especially pleased to report that our Annual Dinner on May 26th was a huge success. We had nearly 450 attendees, and we congratulate the remarkable honorees and the new officers and directors, who were installed by the incomparable Hon. Betty Weinberg Ellerin.

Linda Greenhouse, the Pulitzer Prize-winning journalist and The New York Times' reporter covering the U.S. Supreme Court, received The President's Special Award. She is extraordinarily well versed with respect to the issues that come before the Court, and in her remarks she demonstrated her warmth, intelligence and keen ability to place those issues in a larger context.

Justice Jacqueline W. Silbermann received the inaugural Joan L. Ellenbogen Award. A past President of the Association and the first President of WBASNY, we are grateful for Joan's legacy. An extraordinary woman in her own right, Justice Silbermann is the Administrative Judge for matrimonial courts statewide and for the Supreme Court in New York County. She has had a powerful impact on these courts and the lives of the litigants and attorneys who come before them. She is also a distinguished member of our Board. We are so grateful to past President Sheila Birnbaum for sponsoring this award, which included a $5,000 donation to a charity. Justice Silbermann chose InMotion, which provides legal assistance and support for victims of domestic violence. InMotion founder Catherine Douglass accepted the donation. We also thank Sheila and Chief Judge Kaye for their gracious remarks honoring Joan and Justice Silbermann.

Congratulations as well to our Award of Merit recipients – Davis Polk & Wardwell and Blank Rome LLP – which were honored for their pro bono efforts and support of women's equality. We also salute them for their support of the Association over the years.

The Annual Dinner is our major fundraiser, and it would not be possible without the hard work of many people, especially Co-Chairs Myra Freed and Jo Ann Douglas. The Dinner Journal was also an extraordinary accomplishment. Our largest Journal ever, at 72 pages, it is filled with heartfelt tributes to our honorees, officers and directors, as well as terrific ads from our sponsors. If you would like a copy of the Dinner Journal, just let us know. I would also like to acknowledge the work of Karen Chu, who designed our Journal, and John Bado and his team, who printed it. They do a great job, and dealing with them is a pleasure. Of course, we also owe a huge debt to Executive Director Marta Toro for all her assistance.

By any measure, 2003-04 was an extraordinary year. Membership increased more than 50% from only two years ago, and there is a wonderful enthusiasm within the organization that I am certain will continue through 2004-05 and beyond.

Speaking of membership, it is time to renew! Renewal notices were mailed in mid-August. If you have not returned your renewal, please do so soon. Our first membership certification is due to WBASNY by September 30th, and we really need your support. If you can't find your renewal form, or have a friend or colleague who would like to join, you can download a membership form at our terrific website (www.nywba.org). We can also send membership forms to you.

I am also very excited about the CLE programs that are being planned for this year, and I want to thank our Programs and Events Co-Chairs, Amy Saltzman and Laura Twomey for all their work. On September 21st, the Association will sponsor a wonderful CLE program on the legal rights of unmarried couples. We are grateful to Judicial Title Insurance for their underwriting and sponsorship of this program.

As I reflect on the past year and plan for the next, I cannot express enough how awed I am by what is accomplished on a daily basis by this Association. It has been a pleasure to serve as President this year, and I look forward to an equally productive and fun 2004-05.

~ Beth



Archives

April 2004

In her column for April, President Elizabeth Bryson congratulated several women who make history every day, including the 11 honorees designated for Women's History Month by the National Women's History Project and the New York City Commission on Women. She provided an update on the proposed rules that we have supported to allow asylum for women who are victims of domestic violence or other brutality that is directly or indirectly endorsed by their country's governments. Ms. Bryson also highlighted numerous upcoming events, including the NYWBA Annual Meeting and the Annual Ethics Forum, both in April, and the Women's Bar Convention in New Orleans and the NYWBA Annual Dinner, both in May. To view the President's message in full, click here. .

March 2004

In her March 2004 column, Ms. Bryson notes that NYWBA's membership has increased by over 33 percent from last year, and nearly 50% from two years ago. She praises the terrific work of NYWBA members, Officers, Board members, Committee Chairs, and others who worked on our membership drive and demonstrate why our bar association is so important, strong and vital. She also salutes two people who may not be lawyers but whose contributions are absolutely invaluable to the Association and the NYWBA Foundation - Executive Director Marta Toro and NYWBA Foundation member Denise Coleman. "Our Association is blessed with so many wonderful women and men who contribute their talents." To view the President's message in full, click here.

February 2004

In her February 2004 column, Ms. Bryson discussed the importance of mentoring and networking, especially for women attorneys. She also announces that the Association's Annual Meeting will be on April 28, 2004, when the 2004-05 officers and directors will be elected. Our gala Annual Dinner will be on May 26, 2004. At that event, awards will be presented to Linda Greenhouse, Pulitzer Prize winning author and New York Times reporter covering the U.S. Supreme Court, and the Hon. Jacqueline Silbermann, Administrative Judge of the NY County Supreme Court and Chief Administrative Judge for NYS Matrimonial Courts. To view the President's message in full, click here.

December 2003

In her December 2003 column, NYWBA President Elizabeth Bryson profiled important issues for our military, including the incidents of rape and sexual harassment at our military academies, the scourge of domestic violence, and the shameful track record of "don't ask, don't tell." She also discussed our exciting membership drive and the Reception Honoring Newly Elected and Appointed Judges. To view the President's message in full, click here.

November 2003

In her November 2003 column, NYWBA President Elizabeth Bryson discusses the importance and benefits of membership, as well as the recent visit of distinguished attorneys from Malaysia who were invited by the U.S. State Department to meet with NYWBA representatives. To view the President's message in full, click here.


NYWBA is not responsible for the content of external Internet sites, and the contents of web pages we link to may change without notice.