New York Women's Bar Association, 132 East 43rd Street, #716, The Chrysler Building, New York, NY, 10017-4019
212-490-8202
877-282-1462 (fax)
www.nywba.org
Message from the President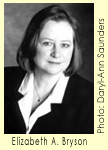 November 2004
What a busy fall! Our membership drive is well underway, and at this rate we may set a record for memberships this year. Our committees have had a productive start to 2004-05, with the Judiciary Committee reviewing candidates for judicial office, and other committees planning programs, holding productive meetings and developing positions on important issues. As exciting, we have already held several successful events, and a number of wonderful programs are planned in the coming weeks.
The Association's
Annual Membership Reception
will be held on
Tuesday, November 9th
. This event is a terrific opportunity to network with friends and colleagues, and for new, current and prospective members to enjoy delicious food and wine in a wonderful setting. At the reception, we will also honor our "Foundation Fellows," law students whom our Foundation sponsors to work at organizations like InMotion and Sanctuary for Families. The Fellows help provide essential legal and support services to victims of domestic violence, persons seeking asylum, and others in desperate need. Be sure to read the article by Fellow Marina Ivolgina. We owe a huge debt of gratitude to Sheila Birnbaum and Skadden Arps for underwriting and hosting this wonderful event.
The Foundation has also scheduled its next Breakfast Series fundraising event, to be held on Wednesday, December 1st. The speaker will be Beth Harpaz, journalist and author of The Girls in the Van: A Reporter's Diary of the Campaign Trail and Finding Annie Farrell: A Family Memoir. Thanks to a generous donation by Ms. Harpaz and her publisher, copies of her new book will also be available for sale, and all proceeds will go to the Foundation.
Several other events are scheduled for November, including a) a terrific CLE program on representing commercial clients in real estate transactions, presented jointly by our Real Estate Committee and the Real Estate Committee of the Westchester Women's Bar Association; b) a free luncheon program for attorneys who are in solo or small firm practices or are contemplating starting their own practice, which we are co-sponsoring with the City Bar; and c) our "Allied Professionals Dinner." (For dates, times and details, see the announcements in this newsletter.)
We are co-hosting the Allied Professionals Dinner with the Financial Planning Association of New York. It will be the first in a series of networking events, which will give attorneys and financial planners the chance to get to know each other and share information about their practices. This will be particularly helpful for matrimonial, family law, trusts and estates and business attorneys, since there are many circumstances where attorneys may need the services of a competent financial planner to assist a client (or themselves!).
I am also very excited about an upcoming WBASNY event. You will be receiving your formal invitations shortly, but I am pleased to announce that WBASNY has established a new award – the Betty Weinberg Ellerin Mentoring Award. The first recipient will be none other than the award's namesake, our own past President and mentor extraordinaire, the Honorable Betty Weinberg Ellerin. The presentation of this much-deserved award will be on December 2nd at the New York Botanical Garden, as part of WBASNY's 25th Anniversary celebrations.
Speaking of anniversaries, we are also making plans for our 70th Anniversary celebration, which will be held next spring and will give us the opportunity to honor our past Presidents. The NYWBA was incorporated in 1935, and we want to make a big splash to celebrate. If you would like to join the committee for this event, let me know.
I do want to comment on two serious issues. First, I was privileged to write an article in the New York Law Journal in late April about the importance of having attorneys and judges who are willing to go out on a limb to protect liberty, justice and due process. I commented on how these rights were being compromised by the unwillingness of the U.S. Government to grant hearings or even allow attorneys to meet with the prisoners at Guantánamo and in Iraqi jails. Notably, this article was written before the U.S. Supreme Court ruled that due process was being denied in these imprisonments, and before the horrific abuse at these facilities was revealed. The importance of our roles as attorneys, judges and guardians of liberty cannot be overstated.
Second, many of you are aware that the Law Journal published an article on October 25th about four incumbent judges who initially decided not to appear before several bar associations for judicial screenings. My response on behalf of the Association is posted on our website (www.nywba.org) and was published (with minor edits) by the Law Journal on October 28th. I am sure you will agree that having the New York Women's Bar Association and other bar associations participate in the judicial screening process helps ensure that we have the best possible judiciary that we can.
Finally, I would like to thank our friends at Judicial Title, and particularly Allison Sass, Regina MacKinnon and Amy Carlson, and our Program Committee Co-Chairs, Amy Saltzman and Laura Twomey, for all their hard work on a terrific program we jointly held in September entitled "Planning for Unmarried Couples." This substantive program was truly enlightening, raising many concerns about the complex property, tax and life choices faced by couples who in most instances are not allowed to marry, and thus do not have the legal privileges and protections given to married couples. Judicial Title graciously underwrote all of the expenses of this program, and they provided dinner to all of the participants. The program was a huge success, with over 100 participants earning CLE credits. We look forward to working with Judicial Title again on future programs.
~ Beth
Archives
September 2004
In her column in September, President Elizabeth Bryson asked members to join her in celebrating the Association's 70th Anniversary year (2004-05). Coincidentally, it was also the 25th anniversary year for the Women's Bar Association of the State of New York (WBASNY), which is the umbrella organization for all 16 women's bar associations across New York State. The NYWBA and its past President Joan Ellenbogen were instrumental in the formation of WBASNY, and it is a joy to see that it is flourishing. This is Beth's second term as President, and in her column she discussed the excitement of continuing programs begun last year and new programs that will begin this year. She also congratulated everyone who was involved in the wonderful year-end festivities, including our Annual Dinner and the WBASNY Convention. To view the President's message in full,
click here
.
April 2004
In her column for April, President Elizabeth Bryson congratulated several women who make history every day, including the 11 honorees designated for Women's History Month by the National Women's History Project and the New York City Commission on Women. She provided an update on the proposed rules that we have supported to allow asylum for women who are victims of domestic violence or other brutality that is directly or indirectly endorsed by their country's governments. Ms. Bryson also highlighted numerous upcoming events, including the NYWBA Annual Meeting and the Annual Ethics Forum, both in April, and the Women's Bar Convention in New Orleans and the NYWBA Annual Dinner, both in May. To view the President's message in full,
click here
. .
March 2004
In her March 2004 column, Ms. Bryson notes that NYWBA's membership has increased by over 33 percent from last year, and nearly 50% from two years ago. She praises the terrific work of NYWBA members, Officers, Board members, Committee Chairs, and others who worked on our membership drive and demonstrate why our bar association is so important, strong and vital. She also salutes two people who may not be lawyers but whose contributions are absolutely invaluable to the Association and the NYWBA Foundation - Executive Director Marta Toro and NYWBA Foundation member Denise Coleman. "Our Association is blessed with so many wonderful women and men who contribute their talents." To view the President's message in full,
click here
.
February 2004
In her February 2004 column, Ms. Bryson discussed the importance of mentoring and networking, especially for women attorneys. She also announces that the Association's Annual Meeting will be on April 28, 2004, when the 2004-05 officers and directors will be elected. Our gala Annual Dinner will be on May 26, 2004. At that event, awards will be presented to Linda Greenhouse, Pulitzer Prize winning author and New York Times reporter covering the U.S. Supreme Court, and the Hon. Jacqueline Silbermann, Administrative Judge of the NY County Supreme Court and Chief Administrative Judge for NYS Matrimonial Courts. To view the President's message in full,
click here
.
December 2003
In her December 2003 column, NYWBA President Elizabeth Bryson profiled important issues for our military, including the incidents of rape and sexual harassment at our military academies, the scourge of domestic violence, and the shameful track record of "don't ask, don't tell." She also discussed our exciting membership drive and the Reception Honoring Newly Elected and Appointed Judges. To view the President's message in full,
click here
.
November 2003
In her November 2003 column, NYWBA President Elizabeth Bryson discusses the importance and benefits of membership, as well as the recent visit of distinguished attorneys from Malaysia who were invited by the U.S. State Department to meet with NYWBA representatives. To view the President's message in full,
click here
.
NYWBA is not responsible for the content of external Internet sites, and the contents of web pages we link to may change without notice.