New York Women's Bar Association, 132 East 43rd Street, #716, The Chrysler Building, New York, NY, 10017-4019
212-490-8202
877-282-1462 (fax)
www.nywba.org
Message from the President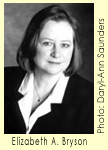 Military Matters
As the war in Iraq continues, I have been reflecting on the lives of our troops and their families. My dad was in the military for 32 years, and he saw action in the Pacific at the end of WWII and in Viet Nam. As I have often joked, we didn't clean up the yard in my family, we "policed the area." There are many wonderful things about military service, including discipline, honor and even adventure. My family lived in all sorts of places – from Boston to the Deep South, from New Mexico to Alaska, and even to France. On the other hand, we moved 20 times before I was 21. It was often impossible to maintain friendships, and you had to reinvent yourself in every new location. It is probably no coincidence that while I love to travel, I set down roots in New York City and haven't moved since.
Many of my best qualities come from the life I lived as a child. Moving so often forced me to learn how to adjust quickly, and I can talk to almost anyone about almost anything. Yet there were things I experienced that were very troubling. I remember babysitting for one Colonel's family and seeing telling evidence that he ruled the house with an iron fist. I was only a young teenager and had little power to affect the situation, but it stayed with me. Domestic violence in the military is a scourge, and there are few avenues for victims when their abusers are in the military. The frequent moves are very isolating and make it even more difficult to find a safe haven. In addition, the chain of command tends to credit the word of an "officer and gentleman" over that of the spouse or family members.
The scandal of the Air Force Academy exemplifies many of the challenges faced by victims of sexual abuse in the military. A shocking number of women cadets reported that they were sexually abused or even raped. When they complained, however, they often found themselves written up on charges. The Academy's policy of "no tolerance" for the violation of rules, no matter how small, meant that a cadet who was raped when she went to a party where alcohol was served would frequently be written up or even discharged for violating rules regarding alcohol, while her rapist often would never be charged at all. Women cadets learned quickly there was no avenue for them to seek redress, which emboldened the sexual predators even further. While the Air Force and Congressional scrutiny are forcing changes at the Academy, this "blame the victim" attitude is unfortunately still pervasive throughout the military.
Military life is also very difficult for people who are "different." I had two gay brothers, and my father had great difficulty accepting them for who they really were. This is far from an isolated case. Recently, three high-ranking retired military officers – two Generals and an Admiral - "came out," admitting they are gay and had to hide their true natures throughout their military careers. They persuasively argue that the military's 10-year policy of "Don't Ask, Don't Tell" has been an unmitigated failure. It simultaneously denies personnel who are gay the opportunity for love and affection while making them live in fear that they will be caught and discharged for no reason other than their sexual orientation. This is simply wrong.
I was an Intelligence Analyst for the Justice Department for 10 years. A basic tenet in intelligence is that you want people in sensitive positions who have nothing to hide. People who are afraid of exposure are far more vulnerable to blackmail, and it is hard for people to live their lives with integrity and honor while they are being forced to live a lie and in fear. It would be so much better for society to learn to accept people and let them live their lives openly and honestly. This is precisely what the Massachusetts Supreme Court held in its recent Goodridge case recognizing domestic unions, and I can only hope the lesson will be learned by the military, as well.
Fortunately, the challenges faced by members of the military and their families have not been lost on our organization. WBASNY recently formed the Women and the Military Committee, which is working to ensure dignity and opportunities for women in military service and to provide support for military families. We applaud this effort, and I invite our members to provide their insights and energy to this issue.
Last month, I discussed the importance of membership, and I am pleased to report that our membership has increased substantially. We have a ways to go to meet our goal of more than 500 voting members by January, however. We are arranging for NYWBA information sessions at several law firms and at the New York courthouses. You can help. Just send us the name and address of potential members, and we will send them an invitation and membership form. Also, please be sure you have renewed!
Finally, our annual Reception Honoring Newly Elected and Appointed Judges will be held at Nicole's on January 22, 2004. The Judge's Reception is always a wonderful event. It is a great opportunity to network among your peers and meet members of the judiciary in a warm and inviting setting. Please join us.
Beth
Archives
November 2003
In her November 2003 column, NYWBA President Elizabeth Bryson discusses the importance and benefits of membership, as well as the recent visit of distinguished attorneys from Malaysia who were invited by the U.S. State Department to meet with NYWBA representatives. To view the President's message in full,
click here
.
NYWBA is not responsible for the content of external Internet sites, and the contents of web pages we link to may change without notice.