New York Women's Bar Association, 132 East 43rd Street, #716, The Chrysler Building, New York, NY, 10017-4019
212-490-8202
877-282-1462 (fax)
www.nywba.org
Message from the President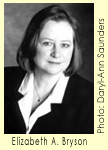 December 2004

Speaking Up and Being Heard
Recent and upcoming events have given me the opportunity to appreciate once again how important it is that the Association and its members speak out on important issues. The recent judicial elections and a Commission hearing scheduled for December present two cases in point.
One of the most important things we do is to review the qualifications of people who would like to serve as judges. Judiciary Committee Co-Chairs Cathy Foti and Bernie Dworkin and the members of the Committee spend hours reviewing the credentials and writings of the candidates, as well as interviewing them and attorneys who have appeared with, against or before them. Their dedication to this incredibly important undertaking is impressive and humbling.
Admittedly, the process is also time-consuming for the candidates, since they appear before numerous screening panels. This year, four incumbent judges who were running unopposed unilaterally decided they would participate only in screenings conducted by the panels authorized by the NY Democratic Party and by the City Bar. At an emergency Board meeting, after an in-depth discussion, the Board voted to proceed with the screenings, recognizing that candidates (including sitting judges) who did not participate would be reported out as "Not Rated for Failure to Appear." Fortunately, two of the original four judges decided thereafter to participate.
While the Judiciary Committee's reviews were underway, the New York Law Journal published an article about the controversy and the impact on several local bar associations, including the NYWBA. Unfortunately, the article included some very incendiary comments, including an implication that several smaller bar associations used inappropriate litmus tests to determine who would be found "highly qualified," which is absolutely not the case with the NYWBA. Given the significant risk that people who read the article would be left with an inappropriate impression, I wrote a long letter to the editor, which was published (with minor edits) on October 25, 2004, and is reprinted in this Newsletter on page 4. Later that week, the Judiciary Committee completed its work and presented its recommended ratings to the Board, which unanimously endorsed them. The ratings were published in the Law Journal on November 1, 2004, and are reprinted on page 8.
The value of our role in conducting judicial screenings cannot be overstated. Given the importance of experience, wisdom, fairness and integrity in our judiciary, it is essential that bar associations representing the broadest possible constituencies participate in the screening process. I am proud of the Association, its Board, our Judiciary Committee, and, ultimately, the judges and candidates who participated. We stood up for principle and demonstrated our own fairness and integrity.
This leads me to another opportunity to be heard. Many of our members practice in solo and small firm settings, and you have an opportunity for your voices, concerns and experiences to be heard. You will see on page 9 a Notice of Hearings by the Commission to Examine Solo and Small Firm Practice, which was established in May by Chief Judge Judith Kaye "to examine the unique challenges faced by solo and small firm practitioners and to make recommendations for improvements that will benefit all litigants and attorneys statewide." The Commission will hold an all-day public hearing in Manhattan on December 8, 2004. It will hold additional hearings in Albany and Rochester in January and will accept written submissions until January 13, 2005.
In establishing the Commission, Chief Judge Kaye noted, "About 80 percent of all New York lawyers are solo practitioners or work in firms with fewer than 10 attorneys. These lawyers face daily challenges distinct from those of their larger firm colleagues and have developed valuable perspectives on how to improve the courts, the practice of law, and lawyer professionalism. The time has come to tap into their unique experiences and insights." I note with pride that the Commissioners include women's bar members from across the state, including past WBASNY President Joan McNichol.
It is clear that the members of the Commission are open to hearing any suggestions or concerns you may have, from how to make your lives and the lives of your clients easier when you go to court, to law office economics, to the technology that should be available to you – such as the convenience of electronic case filing from your desktop (instead of having to run to court to file papers). The Commission also wants to hear from attorneys who work in various substantive areas of the law.
I hope that those of you who practice as solos or in small firms will present your ideas and opinions to the Commission. Having had the privilege of serving as a member of an earlier Commission established by Chief Judge Kaye, I can assure you the Commission will welcome your ideas with open arms and receptive minds.
I hope you will also attend some of the wonderful events in December, including our Foundation's Breakfast Series Speaker Event on December 1st, WBASNY's 25th Anniversary Gala and presentation of its inaugural mentoring award to our own past President and mentor-extraordinaire Hon. Betty Weinberg Ellerin on December 2nd, and the New York Women's Agenda "Star Breakfast" on December 7th. Each of them promises to be a terrific time for very worthy causes.
Finally, we welcome new advertisers to the Newsletter, including TAG Online, the official website provider for the Association. Did you know that the Association's Newsletter accepts advertisements? The fees are extremely reasonable, and discounts are provided for repeat advertisers. Ad revenue helps underwrite the costs of producing the Newsletter and provides terrific exposure for the Association. If you know of a potential advertiser, just send a note to
newsletter@nywba.org
or call 212-360-7055.
~ Beth
Archives
November 2004
In her column in September, President Elizabeth Bryson celebrated all the wonderful programs and events that happened this fall, including our
Annual Membership Reception
. She also discussed the recent controversy with respect to screening the qualifications of candidates for judicial office in New York County, which became the subject of an article in the New York Law Journal. To view the President's message in full,
click here
.
September 2004
In her column in September, President Elizabeth Bryson asked members to join her in celebrating the Association's 70th Anniversary year (2004-05). Coincidentally, it was also the 25th anniversary year for the Women's Bar Association of the State of New York (WBASNY), which is the umbrella organization for all 16 women's bar associations across New York State. The NYWBA and its past President Joan Ellenbogen were instrumental in the formation of WBASNY, and it is a joy to see that it is flourishing. This is Beth's second term as President, and in her column she discussed the excitement of continuing programs begun last year and new programs that will begin this year. She also congratulated everyone who was involved in the wonderful year-end festivities, including our Annual Dinner and the WBASNY Convention. To view the President's message in full,
click here
.
April 2004
In her column for April, President Elizabeth Bryson congratulated several women who make history every day, including the 11 honorees designated for Women's History Month by the National Women's History Project and the New York City Commission on Women. She provided an update on the proposed rules that we have supported to allow asylum for women who are victims of domestic violence or other brutality that is directly or indirectly endorsed by their country's governments. Ms. Bryson also highlighted numerous upcoming events, including the NYWBA Annual Meeting and the Annual Ethics Forum, both in April, and the Women's Bar Convention in New Orleans and the NYWBA Annual Dinner, both in May. To view the President's message in full,
click here
. .
March 2004
In her March 2004 column, Ms. Bryson notes that NYWBA's membership has increased by over 33 percent from last year, and nearly 50% from two years ago. She praises the terrific work of NYWBA members, Officers, Board members, Committee Chairs, and others who worked on our membership drive and demonstrate why our bar association is so important, strong and vital. She also salutes two people who may not be lawyers but whose contributions are absolutely invaluable to the Association and the NYWBA Foundation - Executive Director Marta Toro and NYWBA Foundation member Denise Coleman. "Our Association is blessed with so many wonderful women and men who contribute their talents." To view the President's message in full,
click here
.
February 2004
In her February 2004 column, Ms. Bryson discussed the importance of mentoring and networking, especially for women attorneys. She also announces that the Association's Annual Meeting will be on April 28, 2004, when the 2004-05 officers and directors will be elected. Our gala Annual Dinner will be on May 26, 2004. At that event, awards will be presented to Linda Greenhouse, Pulitzer Prize winning author and New York Times reporter covering the U.S. Supreme Court, and the Hon. Jacqueline Silbermann, Administrative Judge of the NY County Supreme Court and Chief Administrative Judge for NYS Matrimonial Courts. To view the President's message in full,
click here
.
December 2003
In her December 2003 column, NYWBA President Elizabeth Bryson profiled important issues for our military, including the incidents of rape and sexual harassment at our military academies, the scourge of domestic violence, and the shameful track record of "don't ask, don't tell." She also discussed our exciting membership drive and the Reception Honoring Newly Elected and Appointed Judges. To view the President's message in full,
click here
.
November 2003
In her November 2003 column, NYWBA President Elizabeth Bryson discusses the importance and benefits of membership, as well as the recent visit of distinguished attorneys from Malaysia who were invited by the U.S. State Department to meet with NYWBA representatives. To view the President's message in full,
click here
.
NYWBA is not responsible for the content of external Internet sites, and the contents of web pages we link to may change without notice.